It has been four years since a 7.0 earthquake devastated parts of Haiti. At present, this disaster claimed over 200,000 lives and has left over 150,000. Additionally, Haitians continue to suffer from a cholera outbreak that has claimed thousands of lives.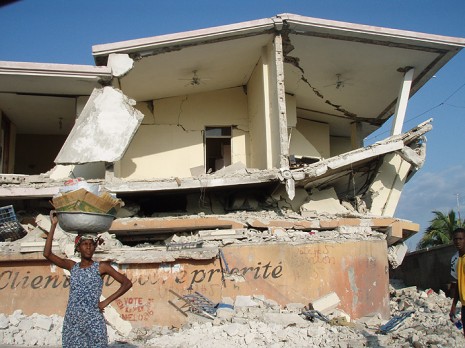 Haitian woman carrying supplies amid the destruction from the January 2010 Haiti earthquake. (U.S. Geological Survey/photo by Anthony Crone.)
In 2014, the Association of Black Anthropologists (ABA) continues to focus on Haiti by standing in support and solidarity with Haiti, the first black republic in the world, by disseminating Haiti-related information and providing anthropological analysis of recent news from Haiti and issues affecting the Haitian diaspora.
To facilitate an informed dialogue about the past, present and future of Haiti, we ask that peers and colleagues continue to submit relevant Haiti-related information to the ABA focus on Haiti website to Bertin M. Louis, Jr. at: abahaiti@gmail.com. Please send:
Articles and Essays by anthropologists about Haiti and Haitian Earthquake Recovery-related topics,
Links of anthropologists in the media discussing Haiti and Haitian Earthquake Recovery-related topics,
Websites about Haiti, Haitian Culture and History, and
Annotated bibliographic information.