HANNA GARTH
Based on extensive fieldwork with families in Santiago de Cuba, the island's second largest city, Hanna Garth examines Cuban families' attempts to acquire and assemble "a decent meal," unraveling the layers of household dynamics, community interactions, and individual reflections on everyday life in today's Cuba. With the collapse of the Soviet Union in the 1990s and the subsequent loss of its most significant trade partner, Cuba entered a period of economic hardship. Although trade agreements have significantly improved the quantity and quality of rationed food in Cuba, many Cubans report that they continue to live with food shortages and economic hardship. Garth tells the stories of families that face the daily challenge of acquiring not only enough food, but food that meets local and personal cultural standards. She ultimately argues that these ongoing struggles produce what the Cuban families describe as "a change in character," and that for some, this shifting concept of self and sense of social relation leads to a transformation in society. Food in Cuba shows how the practices of acquisition and the politics of adequacy are intricately linked to the local moral stances on what it means to be a good person, family member, community member, and ultimately, a good Cuban.
---
ASHANTÉ M. REESE
In this book, Ashanté M. Reese makes clear the structural forces that determine food access in urban areas, highlighting Black residents' navigation of and resistance to unequal food distribution systems. Linking these local food issues to the national problem of systemic racism, Reese examines the history of the majority-Black Deanwood neighborhood of Washington, D.C. Based on extensive ethnographic fieldwork, Reese not only documents racism and residential segregation in the nation's capital but also tracks the ways transnational food corporations have shaped food availability. By connecting community members' stories to the larger issues of racism and gentrification, Reese shows there are hundreds of Deanwoods across the country.
Reese's geographies of self-reliance offer an alternative to models that depict Black residents as lacking agency, demonstrating how an ethnographically grounded study can locate and amplify nuances in how Black life unfolds within the context of unequal food access.
---
SAVANNAH SHANGE
San Francisco is the endgame of gentrification, where racialized displacement means that the Black population of the city hovers at just over 3 percent. The Robeson Justice Academy opened to serve the few remaining low-income neighborhoods of the city, with the mission of offering liberatory, social justice–themed education to youth of color. While it features a progressive curriculum including Frantz Fanon and Audre Lorde, the majority Latinx school also has the district's highest suspension rates for Black students. In Progressive Dystopia Savannah Shange explores the potential for reconciling the school's marginalization of Black students with its sincere pursuit of multiracial uplift and solidarity. Drawing on ethnographic fieldwork and six years of experience teaching at the school, Shange outlines how the school fails its students and the community because it operates within a space predicated on antiblackness. Seeing San Francisco as a social laboratory for how Black communities survive the end of their worlds, Shange argues for abolition over revolution or progressive reform as the needed path toward Black freedom.
---
REBECCA LOUISE CARTER
"Grieve well and you grow stronger." Anthropologist Rebecca Louise Carter heard this wisdom over and over while living in post-Katrina New Orleans, where everyday violence disproportionately affects Black communities. What does it mean to grieve well? How does mourning strengthen survivors in the face of ongoing threats to Black life? Inspired by ministers and guided by grieving mothers who hold birthday parties for their deceased sons, Prayers for the People traces the emergence of a powerful new African American religious ideal at the intersection of urban life, death, and social and spiritual change. Carter frames this sensitive ethnography within the complex history of structural violence in America-from the legacies of slavery to free but unequal citizenship, from mass incarceration and overpolicing to social abandonment and the unequal distribution of goods and services. And yet Carter offers a vision of restorative kinship by which communities of faith work against the denial of Black personhood as well as the violent severing of social and familial bonds. A timely directive for human relations during a contentious time in America's history, Prayers for the People is also a hopeful vision of what an inclusive, nonviolent, and just urban society could be.
---
KATHRYN MARINER
Based on ethnographic fieldwork at a small Chicago adoption agency specializing in transracial adoption, Contingent Kinship charts the entanglement of institutional structures and ideologies of family, race, and class to argue that adoption is powerfully implicated in the question of who can have a future in the twenty-first-century United States. With a unique focus on the role that social workers and other professionals play in mediating relationships between expectant mothers and prospective adopters, Kathryn A. Mariner develops the concept of "intimate speculation" to describe imbricated practices of anticipation, observation, and risky investment that converge to produce the imagined Black child as a potent and highly contingent future. Shifting the emphasis from adoption's outcome to its conditions of possibility, this insightful ethnography places the practice of domestic adoption within a temporal, economic, and affective framework in order to interrogate the social inequality and power dynamics that render adoption—and the families it produces—possible. Contingent Kinship's focus on the process of adoption rather than solely its desired outcome—the adoptive family—reveals transracial adoption's fraught conditions of possibility: stark social inequality, dispossession, economic abandonment, and the devaluation of Black motherhood, all of which are often erased from the narrative of the happy, progressive adoptive family.
---
JEROME CAMAL
In the Caribbean island of Guadeloupe, the complex interplay between anticolonial resistance and accommodation resounds in its music. Guadeloupean gwoka music—a secular, drum-based tradition—captures the entangled histories of French colonization, movements against it, and the uneasy process of the island's decolonization as an overseas territory of France. In Creolized Aurality, Jérôme Camal demonstrates that musical sounds and practices express the multiple—and often seemingly contradictory—cultural belongings and political longings that characterize postcoloniality. While gwoka has been associated with anti-colonial activism since the 1960s, in more recent years it has provided a platform for a cohort of younger musicians to express pan-Caribbean and diasporic solidarities. This generation of musicians even worked through the French state to gain UNESCO heritage status for their art. These gwoka practices, Camal argues, are "creolized auralities"—expressions of a culture both of and against French coloniality and postcoloniality.
---
Edited by IRA E. HARRISON, DEBORAH JOHNSON-SIMON, AND ERICA LORRAINE WILLIAMS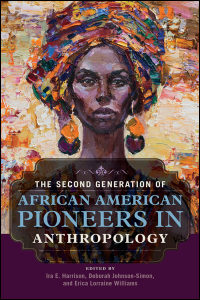 After the scholars profiled in African-American Pioneers in Anthropology, a second generation of African American anthropologists trained in the late 1950s and 1960s. Expected to study their own or similar cultures, these specialists often focused on the African diaspora but in some cases ranged farther afield both geographically and intellectually. Yet their work remains largely unknown to colleagues and students.
This volume collects intellectual biographies of fifteen accomplished African American anthropologists of the era. The authors explore the scholars' diverse backgrounds and interests and look at their groundbreaking methodologies, ethnographies, and theories. They also place their subjects within their tumultuous times, when antiracism and anticolonialism transformed the field and the emergence of ideas around racial vindication brought forth new worldviews.
Scholars profiled: George Clement Bond, Johnnetta B. Cole, James Lowell Gibbs Jr., Vera Mae Green, John Langston Gwaltney, Ira E. Harrison, Delmos Jones, Diane K. Lewis, Claudia Mitchell-Kernan, Oliver Osborne, Anselme Remy, William Alfred Shack, Audrey Smedley, Niara Sudarkasa, and Charles Preston Warren II
---

BIANCA C. WILLIAMS
In The Pursuit of Happiness Bianca C. Williams traces the experiences of African American women as they travel to Jamaica, where they address the perils and disappointments of American racism by looking for intimacy, happiness, and a connection to their racial identities. Through their encounters with Jamaican online communities and their participation in trips organized by Girlfriend Tours International, the women construct notions of racial, sexual, and emotional belonging by forming relationships with Jamaican men and other "girlfriends." These relationships allow the women to exercise agency and find happiness in ways that resist the damaging intersections of racism and patriarchy in the United States. However, while the women require a spiritual and virtual connection to Jamaica in order to live happily in the United States, their notion of happiness relies on travel, which requires leveraging their national privilege as American citizens. Williams's theorization of "emotional transnationalism" and the construction of affect across diasporic distance attends to the connections between race, gender, and affect while highlighting how affective relationships mark nationalized and gendered power differentials within the African diaspora.
---
N. FADEKE CASTOR
In Spiritual Citizenship, N. Fadeke Castor employs the titular concept to illuminate how Ifá/Orisha practices informed by Yoruba cosmology shape local, national, and transnational belonging in African diasporic communities in Trinidad and beyond. Drawing on almost two decades of fieldwork in Trinidad, Castor outlines how the political activism and social upheaval of the 1970s set the stage for African diasporic religions to enter mainstream Trinidadian society. She establishes how the postcolonial performance of Ifá/Orisha practices in Trinidad fosters a sense of belonging that invigorates its practitioners to work toward freedom, equality, and social justice. Demonstrating how spirituality is inextricable from the political project of black liberation, Castor illustrates the ways in which Ifá/Orisha beliefs and practices offer Trinidadians the means to strengthen belonging throughout the diaspora, access past generations, heal historical wounds, and envision a decolonial future. Read the introduction of Spiritual Citizenship HERE.
---
CHANDRA D. BHIMULL
Empire in the Air
 is at once a history of aviation, and an examination of how air travel changed lives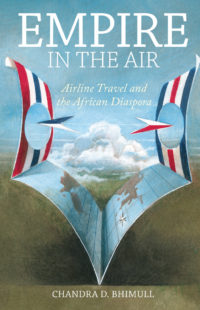 along the transatlantic corridor of the African diaspora.  Focusing on Britain and its Caribbean colonies, Chandra Bhimull reveals how the black West Indies shaped the development of British Airways.
Bhimull offers a unique analysis of early airline travel, illuminating the links among empire, aviation and diaspora, and in doing so provides insights into how racially oppressed people experienced air travel. The emergence of artificial flight revolutionized the movement of people and power, and Bhimull makes the connection between airplanes and the other vessels that have helped make and maintain the African diaspora:  the slave ships of the Middle Passage, the tracks of the Underground Railroad, and Marcus Garvey's black-owned ocean liner.
As a new technology, airline travel retained the racialist ideas and practices that were embedded in British imperialism, and these ideas shaped every aspect of how commercial aviation developed, from how airline routes were set, to who could travel easily and who could not. The author concludes with a look at airline travel today, suggesting that racism is still enmeshed in the banalities of contemporary flight.
---

RICHÉ BARNES
Winner of the 2017 Distinguished Book Award from the American Sociological Association Section on Race, Gender, and Class.
Popular discussions of professional women often dwell on the conflicts faced by the woman who attempts to "have it all," raising children while climbing up the corporate ladder. Yet for all the articles and books written on this subject, there has been little work that focuses on the experience of African American professional women or asks how their perspectives on work-family balance might be unique.
Raising the Race is the first scholarly book to examine how black, married career women juggle their relationships with their extended and nuclear families, the expectations of the black community, and their desires to raise healthy, independent children. Drawing from extensive interviews with twenty-three Atlanta-based professional women who left or modified careers as attorneys, physicians, executives, and administrators, anthropologist Riché J. Daniel Barnes found that their decisions were deeply rooted in an awareness of black women's historical struggles. Departing from the possessive individualistic discourse of "having it all," the women profiled here think beyond their own situation—considering ways their decisions might help the entire black community.
Giving a voice to women whose perspectives have been underrepresented in debates about work-family balance, Barnes's profiles enable us to perceive these women as fully fledged individuals, each with her own concerns and priorities. Yet Barnes is also able to locate many common themes from these black women's experiences, and uses them to propose policy initiatives that would improve the work and family lives of all Americans.
---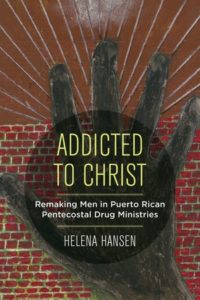 HELENA HANSEN
How are spiritual power and self-transformation cultivated in street ministries? In Addicted to Christ, Helena Hansen provides an in-depth analysis of Pentecostal ministries in Puerto Rico that were founded and run by self-identified "ex-addicts," ministries that are also widespread in poor Black and Latino neighborhoods in the U.S. mainland. Richly ethnographic, the book harmoniously melds Hansen's dual expertise in cultural anthropology and psychiatry. Through the stories of ministry converts, she examines key elements of Pentecostalism: mysticism, ascetic practice, and the idea of other-worldliness. She then reconstructs the ministries' strategies of spiritual victory over addiction: transformation techniques to build spiritual strength and authority through pain and discipline; cultivation of alternative masculinities based on male converts' reclamation of domestic space; and radical rupture from a post-industrial "culture of disposability." By contrasting the ministries' logic of addiction with that of biomedicine, Hansen rethinks roads to recovery, discovering unexpected convergences with biomedicine while revealing the allure of street corner ministries.
---
AIMEE MEREDITH COX

In Shapeshifters Aimee Meredith Cox explores how young Black women in a Detroit homeless shelter contest stereotypes, critique their status as partial citizens, and negotiate poverty, racism, and gender violence to create and imagine lives for themselves. Based on eight years of fieldwork at a local shelter for women and girls, Cox shows how the shelter's residents—who range in age from fifteen to twenty-two—employ strategic methods she characterizes as choreography to disrupt the social hierarchies and prescriptive narratives that work to marginalize them. Among these are dance and poetry, which residents learn in shelter workshops. These outlets for performance and self-expression, Cox shows, are key to the residents exercising their agency, while their creation of alternative family structures demands a rethinking of notions of care, protection, and love. Cox also uses these young women's experiences to tell larger stories of Detroit's history, the Great Migration, deindustrialization, the politics of respectability, and the construction of Black girls and women as social problems. With Shapeshifters Cox gives a voice to young Black women who find creative and non-normative solutions to the problems that come with being young, Black, and female in America.
---
SABIYHA PRINCE

Capital Dilemma: Growth and Inequality in Washington, DC uncovers and explains the dynamics that have influenced the contemporary economic advancement of Washington, DC. This volume's unique interdisciplinary approach using historical, sociological, anthropological, economic, geographic, political, and linguistic theories and approaches, captures the comprehensive factors related to changes taking place in one of the world's most important cities.
Capital Dilemma clarifies how preexisting urban social hierarchies, established mainly along race and class lines but also along national and local interests, are linked with the city's contemporary inequitable growth. While accounting for historic disparities, this book reveals how more recent federal and city political decisions and circumstances shape contemporary neighborhood gentrification patterns, highlighting the layered complexities of the modern national capital and connecting these considerations to Washington, DC's past as well as to more recent policy choices.
As we enter a period where advanced service sector cities prosper, Washington, DC's changing landscape illustrates important processes and outcomes critical to other US cities and national capitals throughout the world. The Capital Dilemma for DC, and other major cities, is how to produce sustainable equitable economic growth. This volume expands our understanding of the contradictions, challenges and opportunities associated with contemporary urban development.
---
BERTIN LOUIS
In the Haitian diaspora, as in Haiti itself, the majority of Haitians have long practiced Catholicism or Vodou. However, Protestant forms of Christianity now flourish both in Haiti and beyond. In the Bahamas, where approximately one in five people are now Haitian-born or Haitian-descended, Protestantism has become the majority religion for immigrant Haitians.
In My Soul Is in Haiti, Bertin M. Louis, Jr. has combined multi-sited ethnographic research in the United States, Haiti, and the Bahamas with a transnational framework to analyze why Protestantism has appealed to the Haitian diaspora community in the Bahamas. The volume illustrates how devout Haitian Protestant migrants use their religious identities to ground themselves in a place that is hostile to them as migrants, and it also uncovers how their religious faith ties in to their belief in the need to "save" their homeland, as they re-imagine Haiti politically and morally as a Protestant Christian nation.
---
KATHERINE E. BROWN
This important look at transnational migration between second and third world countries shows how notions of nationalism among Haitian migrants in the Bahamas are filtered through their religious beliefs. By studying local transformations in the Haitian diaspora of the Bahamas, Louis offers a greater understanding of the spread of Protestant Christianity, both regionally and globally.
Standing in the Need presents an intimate account of an African American family's ordeal after Hurricane Katrina. Before the storm struck, this family of one hundred fifty members lived in the bayou communities of St. Bernard Parish just outside New Orleans. Rooted there like the wild red iris of the coastal wetlands, the family had gathered for generations to cook and share homemade seafood meals, savor conversation, and refresh their interconnected lives.
In this lively narrative, Katherine Browne weaves together voices and experiences from eight years of post-Katrina research. Her story documents the heartbreaking struggles to remake life after everyone in the family faced ruin. Cast against a recovery landscape managed by outsiders, the efforts of family members to help themselves could get no traction; outsiders undermined any sense of their control over the process. In the end, the insights of the story offer hope. Written for a broad audience and supported by an array of photographs and graphics, Standing in the Need offers readers an inside view of life at its most vulnerable.
---
LAURENCE RALPH

Every morning Chicagoans wake up to the same stark headlines that read like some macabre score: "13 shot, 4 dead overnight across the city," and nearly every morning the same elision occurs: what of the nine other victims? As with war, much of our focus on inner-city violence is on the death toll, but the reality is that far more victims live to see another day and must cope with their injuries—both physical and psychological—for the rest of their lives. Renegade Dreams is their story. Walking the streets of one of Chicago's most violent neighborhoods—where the local gang has been active for more than fifty years—Laurence Ralph talks with people whose lives are irrecoverably damaged, seeking to understand how they cope and how they can be better helped.
Going deep into a West Side neighborhood most Chicagoans only know from news reports—a place where children have been shot just for crossing the wrong street—Ralph unearths the fragile humanity that fights to stay alive there, to thrive, against all odds. He talks to mothers, grandmothers, and pastors, to activists and gang leaders, to the maimed and the hopeful, to aspiring rappers, athletes, or those who simply want safe passage to school or a steady job. Gangland Chicago, he shows, is as complicated as ever. It's not just a warzone but a community, a place where people's dreams are projected against the backdrop of unemployment, dilapidated housing, incarceration, addiction, and disease, the many hallmarks of urban poverty that harden like so many scars in their lives. Recounting their stories, he wrestles with what it means to be an outsider in a place like this, whether or not his attempt to understand, to help, might not in fact inflict its own damage. Ultimately he shows that the many injuries these people carry—like dreams—are a crucial form of resilience, and that we should all think about the ghetto differently, not as an abandoned island of unmitigated violence and its helpless victims but as a neighborhood, full of homes, as a part of the larger society in which we all live, together, among one another.
---

ERICA LORRAINE WILLIAMS
Winner of the National Women's Studies Association/University of Illinois Press First Book Prize
Brazil has the largest national economy in Latin America and a population five times greater than any other South American country–and for nearly a decade, Brazil has surpassed Thailand as the world's premier sex tourism destination. As the first full-length ethnography of sex tourism in Brazil, this pioneering study treats sex tourism as a complex and multidimensional phenomenon that involves a range of activities and erotic connections, from sex work to romantic transnational relationships. Erica Lorraine Williams explores sex tourism in the Brazilian state of Bahia from the perspectives of foreign tourists, tourism industry workers, sex workers who engage in liaisons with foreigners, and Afro-Brazilian men and women who contend with foreigners' stereotypical assumptions about their licentiousness. 
In her analysis, Williams argues that the cultural and sexual economies of tourism are inextricably linked in the Bahian capital city of Salvador. She shows how the Bahian state strategically exploits the touristic desire for exotic culture by appropriating an eroticized blackness and commodifying the Afro-Brazilian culture in order to sell Bahia to foreign travelers. Drawing on ethnographic research and in-depth interviews, Sex Tourism in Bahia: Ambiguous Entanglements combines historical, sociological, anthropological, cultural-studies, and feminist perspectives to demonstrate how sexism, racism, and socioeconomic inequality interact in the context of tourism in Bahia. 
"This ambitious, fascinating ethnography clearly articulates how sex tourism in Bahia, Brazil, depends on the sexualized and racialized bodies of people of African descent. Erica Lorraine Williams makes a significant contribution by examining how sex tourism is both a racial and sexual project and how race is central to the commodification of culture."–Amalia L. Cabezas, author of Economies of Desire: Sex and Tourism in Cuba and the Dominican Republic