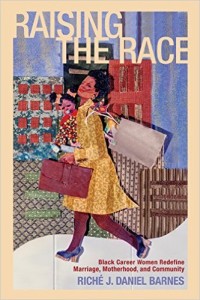 RICHE BARNES
Popular discussions of professional women often dwell on the conflicts faced by the woman who attempts to "have it all," raising children while climbing up the corporate ladder. Yet for all the articles and books written on this subject, there has been little work that focuses on the experience of African American professional women or asks how their perspectives on work-family balance might be unique.
Raising the Race is the first scholarly book to examine how black, married career women juggle their relationships with their extended and nuclear families, the expectations of the black community, and their desires to raise healthy, independent children. Drawing from extensive interviews with twenty-three Atlanta-based professional women who left or modified careers as attorneys, physicians, executives, and administrators, anthropologist Riché J. Daniel Barnes found that their decisions were deeply rooted in an awareness of black women's historical struggles. Departing from the possessive individualistic discourse of "having it all," the women profiled here think beyond their own situation—considering ways their decisions might help the entire black community.
Giving a voice to women whose perspectives have been underrepresented in debates about work-family balance, Barnes's profiles enable us to perceive these women as fully fledged individuals, each with her own concerns and priorities. Yet Barnes is also able to locate many common themes from these black women's experiences, and uses them to propose policy initiatives that would improve the work and family lives of all Americans.
______________________________________________
In Shapeshifters Aimee Meredith Cox explores how young Black women in a Detroit homeless shelter contest stereotypes, critique their status as partial citizens, and negotiate poverty, racism, and gender violence to create and imagine lives for themselves. Based on eight years of fieldwork at a local shelter for women and girls, Cox shows how the shelter's residents—who range in age from fifteen to twenty-two—employ strategic methods she characterizes as choreography to disrupt the social hierarchies and prescriptive narratives that work to marginalize them. Among these are dance and poetry, which residents learn in shelter workshops. These outlets for performance and self-expression, Cox shows, are key to the residents exercising their agency, while their creation of alternative family structures demands a rethinking of notions of care, protection, and love. Cox also uses these young women's experiences to tell larger stories of Detroit's history, the Great Migration, deindustrialization, the politics of respectability, and the construction of Black girls and women as social problems. With Shapeshifters Cox gives a voice to young Black women who find creative and non-normative solutions to the problems that come with being young, Black, and female in America.
______________________________________________
Capital Dilemma: Growth and Inequality in Washington, DC uncovers and explains the dynamics that have influenced the contemporary economic advancement of Washington, DC. This volume's unique interdisciplinary approach using historical, sociological, anthropological, economic, geographic, political, and linguistic theories and approaches, captures the comprehensive factors related to changes taking place in one of the world's most important cities.
Capital Dilemma clarifies how preexisting urban social hierarchies, established mainly along race and class lines but also along national and local interests, are linked with the city's contemporary inequitable growth. While accounting for historic disparities, this book reveals how more recent federal and city political decisions and circumstances shape contemporary neighborhood gentrification patterns, highlighting the layered complexities of the modern national capital and connecting these considerations to Washington, DC's past as well as to more recent policy choices.
As we enter a period where advanced service sector cities prosper, Washington, DC's changing landscape illustrates important processes and outcomes critical to other US cities and national capitals throughout the world. The Capital Dilemma for DC, and other major cities, is how to produce sustainable equitable economic growth. This volume expands our understanding of the contradictions, challenges and opportunities associated with contemporary urban development.
______________________________________________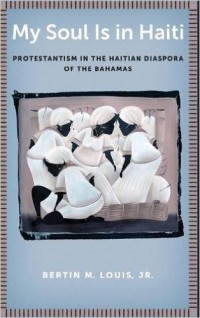 BERTIN LOUIS
In the Haitian diaspora, as in Haiti itself, the majority of Haitians have long practiced Catholicism or Vodou. However, Protestant forms of Christianity now flourish both in Haiti and beyond. In the Bahamas, where approximately one in five people are now Haitian-born or Haitian-descended, Protestantism has become the majority religion for immigrant Haitians.
In My Soul Is in Haiti, Bertin M. Louis, Jr. has combined multi-sited ethnographic research in the United States, Haiti, and the Bahamas with a transnational framework to analyze why Protestantism has appealed to the Haitian diaspora community in the Bahamas. The volume illustrates how devout Haitian Protestant migrants use their religious identities to ground themselves in a place that is hostile to them as migrants, and it also uncovers how their religious faith ties in to their belief in the need to "save" their homeland, as they re-imagine Haiti politically and morally as a Protestant Christian nation.
______________________________________________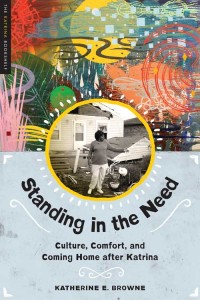 Katherine E. Brown
This important look at transnational migration between second and third world countries shows how notions of nationalism among Haitian migrants in the Bahamas are filtered through their religious beliefs. By studying local transformations in the Haitian diaspora of the Bahamas, Louis offers a greater understanding of the spread of Protestant Christianity, both regionally and globally.
Standing in the Need presents an intimate account of an African American family's ordeal after Hurricane Katrina. Before the storm struck, this family of one hundred fifty members lived in the bayou communities of St. Bernard Parish just outside New Orleans. Rooted there like the wild red iris of the coastal wetlands, the family had gathered for generations to cook and share homemade seafood meals, savor conversation, and refresh their interconnected lives.
In this lively narrative, Katherine Browne weaves together voices and experiences from eight years of post-Katrina research. Her story documents the heartbreaking struggles to remake life after everyone in the family faced ruin. Cast against a recovery landscape managed by outsiders, the efforts of family members to help themselves could get no traction; outsiders undermined any sense of their control over the process. In the end, the insights of the story offer hope. Written for a broad audience and supported by an array of photographs and graphics, Standing in the Need offers readers an inside view of life at its most vulnerable.
______________________________________________
Every morning Chicagoans wake up to the same stark headlines that read like some macabre score: "13 shot, 4 dead overnight across the city," and nearly every morning the same elision occurs: what of the nine other victims? As with war, much of our focus on inner-city violence is on the death toll, but the reality is that far more victims live to see another day and must cope with their injuries—both physical and psychological—for the rest of their lives. Renegade Dreams is their story. Walking the streets of one of Chicago's most violent neighborhoods—where the local gang has been active for more than fifty years—Laurence Ralph talks with people whose lives are irrecoverably damaged, seeking to understand how they cope and how they can be better helped.
Going deep into a West Side neighborhood most Chicagoans only know from news reports—a place where children have been shot just for crossing the wrong street—Ralph unearths the fragile humanity that fights to stay alive there, to thrive, against all odds. He talks to mothers, grandmothers, and pastors, to activists and gang leaders, to the maimed and the hopeful, to aspiring rappers, athletes, or those who simply want safe passage to school or a steady job. Gangland Chicago, he shows, is as complicated as ever. It's not just a warzone but a community, a place where people's dreams are projected against the backdrop of unemployment, dilapidated housing, incarceration, addiction, and disease, the many hallmarks of urban poverty that harden like so many scars in their lives. Recounting their stories, he wrestles with what it means to be an outsider in a place like this, whether or not his attempt to understand, to help, might not in fact inflict its own damage. Ultimately he shows that the many injuries these people carry—like dreams—are a crucial form of resilience, and that we should all think about the ghetto differently, not as an abandoned island of unmitigated violence and its helpless victims but as a neighborhood, full of homes, as a part of the larger society in which we all live, together, among one another.